The Kerala State Road Transport Corporation (KSRTC), which was planning to expand its 'impoverished' fleet by adding more buses, is hit by a fresh bout of crisis.
The inordinate delay in body-building works of the proposed buses has deepened the problems of the KSRTC, which has already been crippled by an acute shortage of buses.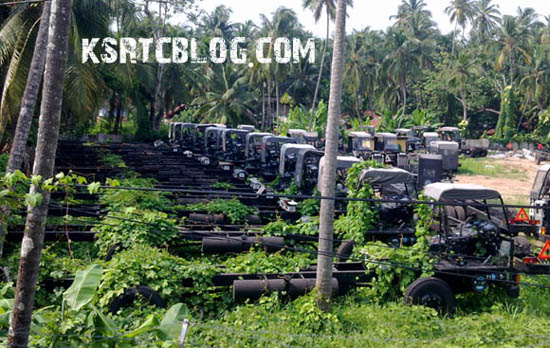 The Corporation, which purchased 659 chassis last year, has carried out the body works of only around 258 buses so far.
Notably, such a deplorable delay has taken place when the Corporation's average daily cancellation of schedules range between 700 and 800. Former Transport Minister V S Sivakumar had claimed in November last that 1,000 new buses would be rolled out in the 2011-12 financial year.
His another assurance to launch 500 buses during the Sabarimala pilgrimage season also did not materialise. Four months have passed since the season ended.
The Corporation had invited tenders for new buses in September last and the chassis started arriving in November. A major chunk of them are lying idle in various workshops of the Corporation. When contacted, the KSRTC management said that the delay in works was owing to the shortage of staff.
"The delay is due to the formalities to be completed in recruiting sufficient personnel. We would soon add 800 staff on a temporary basis to the fleet which would speed up the work," a top official said.
The body building works are done at the regional workshops of the Corporation in Kozhikode, Edappal, Aluva and Mavelikkara and the Central Workshop in Thiruvananthapuram.
Interestingly, the cash-strapped Corporation has made good use of the adverse situation. The tyres on a good number of chassis, which were gathering rust at the workshop in Edappal, have been taken out to be used in old buses.
The issue came up for discussion at a meeting of top officials and representatives of employees unions convened by present Transport Minister Aryadan Mohammed. However, the works witnessed little progress until now.
It is learnt that the lack of sufficient funds is also a reason for the chaotic situation. The employees unions allege that the management's lackadaisical attitude in introducing new vehicles would further aggravate the Corporation's losses.
"On an average, the Corporation is losing Rs 1 crore per day due to the cancellation of schedules. "On Monday, fast passenger bus services in the Kottayam-Ernakulam sector were cancelled en masse. This has resulted in a loss of around Rs 1 lakh to the Corporation," said the office-bearer of an employees' outfit.
Source: Express Buzz