Kerala State Road Transport Corporation (KSRTC) buses will replace all fast passenger private buses in the state for the benefit of the common man by operating ordinary services.
A notification in this regard was issued by the Transport Department following a High Court directive that the ordinary services by private operators have decreased and high fare is collected by converting ordinary service into fast passenger service.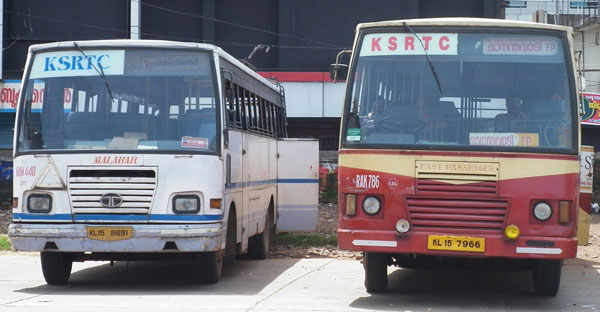 The private bus owners approached the High Court against this notification.
Elias George, transport principal secretary, who issued the notification says that the bus operators convert the permit as fast passenger and hike the fare. It denies the benefits, convenience and concessions enjoyed by the common man.
It is in this context that the Transport Department has decided to operate more KSRTC ordinary buses in areas where the private buses are operating fast passenger services.
The notification has also invited the suggestions of the public in this regard. Kerala State Private Bus Operators Federation president N P Sathyan said that it had also been decided not to renew the permits of the fast passenger buses.
He said that around 359 bus services in the state had to be stopped following the notification of the Transport Department.
"The permits are issued once in five years and at the time of renewal, the service has to be stopped.
"Those services which are operating more than 140 kilometres a day will be off the roads if the notification comes into effect," Sathyan said.
The Road Transport Authority insists that the fast passenger permits will be allowed only to those owners or societies which have more than 50 buses.
At present KSRTC alone comes under this category and only they could operate long distance services.
The issue started with the fast passenger services denying concession to students. This led to clashes at several areas in the state.
Sathyan said that after filing the writ petition against the notification, the government had not responded. The case has been posted for October 10, he said.
Source: New Indian Express