The Kerala State Road Transport Corporation (KSRTC) depot at Pampa has set a record by operating 29,788 Pampa-Nilackal services during the Mandalam-Makarvilakku pilgrim season. Revenue collection on this count was Rs. 7.64 crore (Rs. 7,64,54,623).
Talking to The Hindu, KSRTC special officer at Pampa V.M. Manoj said the corporation had earned revenue of Rs 5.47 crore from the Pampa-Nilackal chain service during the previous pilgrim season.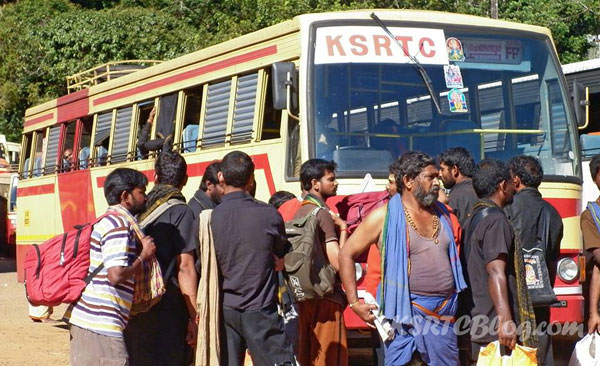 Mr. Manoj praised the employees posted at the depot for the achievement.
He said till Saturday morning the KSRTC had operated 20,286 services to Pampa during the Mandalam-Makaravilakku season from its various depots across the State. The highest number of services to Pampa was from the Chengannur railway station. The corporation ran 4,910 trips to Pampa from Chengannur alone. Kottayam depot operated 2,577 trips. The total number
of services operated from various depots during the ongoing pilgrim season are: Kumili: 1,566; Pathanamthitta: 1,292; Ernakulam: 1,399; Kottarakkara: 1,097; Thiruvananthapuram: 1,014; and Erumeli: 1,724.
Low-floor, Volvo buses
He said the corporation operated 14 low-floor air-conditioned buses and four Volvo buses for its Pampa special service.. The low-floor buses ran services to Chengannur, Thiruvananthapuram and Kottayam, he said. Volvo buses were used for services to Alappuzha, Thiruvananthapuram and Ernakulam.
Mr. Manoj said the corporation had been operating inter-State services to Kambom, Theni, Palani, Thenkasi, Coimbatore, Madurai, and Bangalore from Pampa.
The corporation had deployed five mobile workshops stationed at Chalakkyam, Nilackal, Perinad, Plappally, and at Pampa U-Turn.
News: The Hindu