The Kerala State Road Transport Corporation (KSRTC) management's decision to exact `22 as fare from pilgrims for a distance of 600 metres between Pampa Triveni junction to the KSRTC bus stand has once again kicked up a controversy. The KSRTC had implemented the same rate last year. Pilgrims enter Sabarimala from Pampa Triveni junction. As per norms, the KSRTC is only supposed to charge minimum fare from pilgrims as the distance is less than a kilometre, official sources said.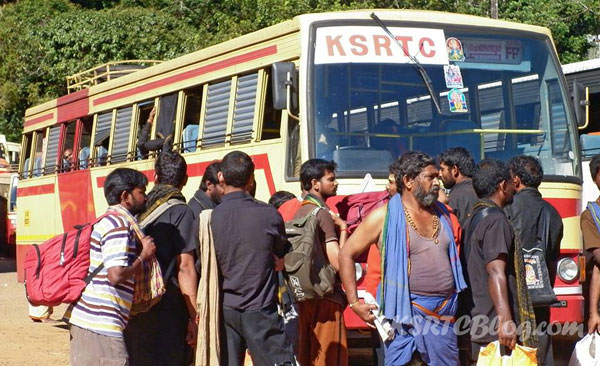 However, bypassing these 'norms', the KSRTC has decided to exact `22 for the short-distance journey this year, the sources said.
The fare is equivalent to the rates charged from pilgrims travelling between Triveni junction to Nilackal, which is more than 20 km away. "Scores of pilgrims visit the shrine every day. By the time we walk down the Mala through the Triveni bridge, most of the older ones are too tired to walk the distance to the stand.
That is why we board KSRTC buses to get down at the stand. Charging such an extravagant amount from pilgrims is illegal," said Naryanan, a pilgrim.
The KSRTC had charged the same rate from pilgrims last year. Based on requests and complaints forwarded by special officers deployed for Sabarimala duty this year, the KSRTC thought to fix the rate at `11.
New Indian Express