Kerala State Road Transport Corporation's (KSRTC) iconic building at the boat jetty bus station is finally getting a makeover. The office room of the first building erected by the corporation in Ernakulam in the 50s – a heritage building situated in coastal regulatory zone (CRZ) -hasn't been repaired till now, except for some whitewashing over the years. TOI had carried a report on the pitiful state of the bus station in August following which the engineering department prepared a repair proposal.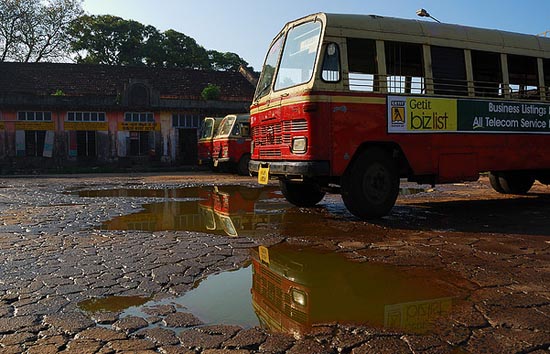 "We have decided to renovate the building at a cost of Rs 24.5 lakh. Since it is a heritage building in a CR zone, we are not supposed to reconstruct the current structure. So, we will repair the roof, existing rooms, toilets, etc. At the same time, the interiors would be redesigned to make office space for station master, employees and passengers," said R Bindu, chief engineer, KSRTC. The tender will be floated next week and once the work is awarded, the process is expected to be completed within a period of five months.
The roof will be built using 'tile-effect roofing sheets' to retain the heritage and ethnic touch. It will have a false ceiling. "The entrance opposite to the Children's Park will be shifted to face the Shanmugham Road. We are also allocating office space for KSRTC's zonal officer," she said.
Over these years, at least half of the building has turned into piles of rubble that have fallen from the ceiling at unexpected moments. This had forced the corporation to shift staff and files to the two adjoining rooms that were in better shape. "This year, we witnessed some heavy rain and the roof fell. We lost our hostel, rest room, cloak-room, store room and even the toilet. The bus yard has turned into a waterlogged yard, much to the annoyance of passengers," said an employee at the bus station.
Another plan to beautifying the bus station premises has already been submitted by the tourism department. The Rs 1.3 crore- project is awaiting clearance from the ministry of environment and forests due to CRZ considerations. Sources said the project will give importance to exteriors of the bus station. Ever since the Goshree Bridge was opened, the jetty station has become important as new services to Northern areas, including Guruvayur, have considerably reduced the traffic at the main bus station.
News: Times of India