Coimbatore -Bikaner AC superfast express to get LHB coaches
The weekly superfast AC express train from Coimbatore to Bikaner will run with brand new Linke Hofmann Busch(LHB) coaches from August 11.
The LHB coaches are designed by Linke-Hofmann-Busch of Germany and manufactured by the Rail Coach Factory in Kapurthala. The coaches are designed with higher passenger capacity and to operate at speeds up to 160 kmph and could go up to 200 kmph. However, they have been tested only up to 180 kmph.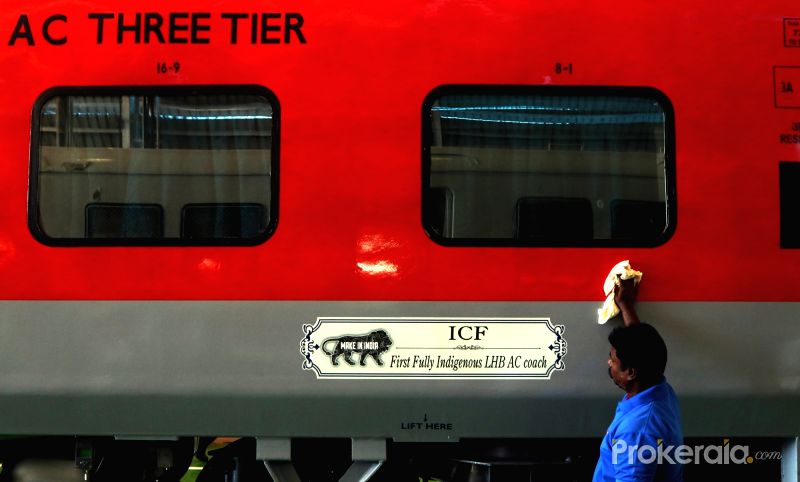 The coaches are made of stainless steel and the interiors are of aluminium, which makes them lighter compared to conventional rakes. Each coach has an advanced pneumatic disc brake system for efficient braking at higher speeds, modular interiors that integrate lighting into ceiling and luggage racks with wider windows.
The improved suspension system of LHB coaches ensures more riding comfort for passengers compared to conventional rakes.
The air conditioning system of the LHB coaches is of higher capacity compared to the older rakes and is controlled by a microprocessor, which is said to give passengers better comfort than the older coaches during summer and winter seasons. They are relatively quieter as each coach produces a maximum noise level of 60 decibels, while conventional coaches can produce 100 decibels.
According to Chief Public Relations Officer Tarun Jain of North Western Railway, the train will have 16 LHB coaches, with one AC first class, four AC II class and eight AC III class coaches, one pantry and two power cars. Train no. 22475 Hissar Junction – Coimbatore will depart from Hissar Junction on August 9 (Thursday) at 1.05 a.m. and will reach Coimbatore at 2.50 a.m. on Saturday. In the return direction, train no. 22476 Coimbatore Junction – Hissar Junction will leave at 3.20 p.m. on Saturday and reach Hissar Junction at 5.55 p.m. on Monday.
On the extended route, the train No. 22475 will depart from Bikaner at 12.55 p.m. on Monday and reach Hissar Jn. at 5.55 p.m. With four intervening stoppings – Sri Dungargarh, Ratangarh, Charu and Sadulpur to cover 210 km, the release added. The maintenance of the train would be done by North Western Railway, sources in the Salem division said.
Meanwhile, rail users' associations has urged the railway board to operate this train from Mettupalayam.
This is the second train originating from Coimbatore to get LHB Coaches, after Cheran Express, which got LHB coaches during November last year. There are demands for LHB coaches for more premium trains such as the Mettupalayam-Coimbatore – Chennai Nilgiri Express.