Wednesday, June 3, 2015 will go down in history books as the day when the Andhra Pradesh State Road Transport Corporation (APSRTC) started functioning as two separate entities in tune with the State bifurcation.
According to official sources, APSRTC and Telangana SRTC were 'functionally-bifurcated' and the move was marked by transfer orders being signed by those empowered to do so — MD Nanduri Sambasiva Rao for APSRTC and Joint MD G.V. Ramana Rao for TSRTC. It is understood that over 400 promotions/transfer orders were issued on Wednesday in APSRTC, while the number varied between 150 and 250 for the TSRTC. Block-wise division of 'Bus Bhavan', the swank corporate headquarters here was also implemented .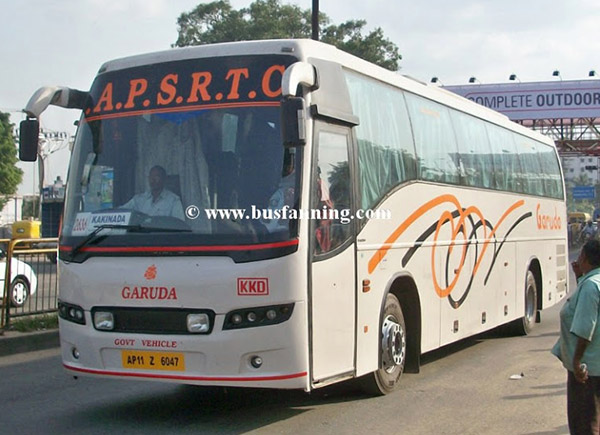 The corporation will work with a joint managing director, and three executive directors at the helm. TSRTC will run 10,450 buses in Telangana with 57,000 employees.  Block-A at the Bus Bhavan in Musheerabad has been allotted to the APSRTC, and B block to the TSRTC.
Earlier, several dates in May were announced for the corporation to work as two entities, but it was postponed for one reason or the other. Though June 3 is the day the split will materialize, it is restricted to the administrative division, while assets remain to be divided between the two States..
APSRTC employees' union has demanded that the assets be divided in the ratio of 58:42 between AP and TS respectively. However, Telangana Transport Minister P Mahender Reddy had earlier stated that assets located in Telangana belong to the State, and likewise in AP. Telangana Public Sector Employees' JAC also echoed the same views.
However, the Telangana corporation can now take independent decisions about changes it intends to bring in. Before the corporation was divided, the Telangana and Andhra units had to consult governments of both the States to resolve any issue.
Hike in bus fares is an aspect that TSRTC would be taking up. In May, Telangana Chief Minister K Chandrasekhar Rao and Transport Minister P Mahender Reddy had indicated fare hikes following the government decision to pay 44 per cent fitment to the employees.